How liable are parents of college bound students for tuition costs? It depends on the answers to some specific FAFSA questions. According to the Free Application for Federal Student Aid (FAFSA), the parents of new undergraduates are accountable for college costs considering household income and assets. However, according to some parents opinion, the costs are supposed to be carried by the student entirely. There are cases of well-to-do families that offer little to no financial support for college, instead encouraging the student to figure it out themselves. This is a blessing in the disguise of hard work for some students, but for others it could be a misguided disaster.
In the world of financial aid, most students coming out of high school and living with their parents are considered a dependent and any student that is 24 years of age or older is independent. If a student is a dependent they must include their parent income as part of household income on the FAFSA. An independent student no longer includes parent income, but would include the income of their spouse if married.
There are other qualifying questions on the FAFSA that can determine if a student can be classified independent, leading some inquisitive students to try and figure out ways to qualify for increased financial aid as a result of their answers. They realize that financial aid could be greatly increased if parent income were removed, but are unhappy when they realize that they will not qualify unless they meet the requirements. I had a lot of experience in dealing with this issue while working at a financial aid office.
"But my parents don't help me with school!" is what I would hear from some students when I would explain financial aid methodology and why family income had to be counted. They had a point really. How fair is it to count the income of parents for financial aid eligibility if the parents do not offer any support?
While my sympathies were with the student, the policies of the Federal Department of Education offer no wiggle room. A student will have to answer Yes to one of the following questions in order to be considered an independent student.
1. Are you at least 24 years old?
2. As of today, are you married?
3. At the beginning of the 2013-2014 school year, will you be working on a master's or doctorate program (such as an MA, MBA, MD, JD, PhD, EdD, or graduate certificate, etc.)?
4. Are you currently serving on active duty in the U.S. Armed Forces for purposes other than training?
5. Are you a veteran of the U.S. Armed Forces?
6. Do you have children who will receive more than half of their support from you between July 1, 2013, and June 30, 2014?
7. Do you have dependents (other than your children or spouse) who live with you and who receive more than half of their support from you, now and through June 30, 2014?
8. At any time since you turned age 13, were both your parents deceased, were you in foster care or were you a dependent or ward of the court?
9. Are you, or were you an emancipated minor as determined by a court in your state of legal residence?
10. Are you, or were you in legal guardianship as determined by a court in your state of legal residence?
11. At any time on or after July 1, 2012, were you homeless or were you at risk of being homeless.
Furthermore, if you do answer yes to any of these questions you will probably have to document the circumstances. For example, if declared an emancipated minor there will be court documentation confirming this. It will need to be submitted to your financial aid office if you are selected for verification review.
Generally, students that are young and declared independent qualify for more financial aid because parent income is no longer counted. There are a number of students that have persevered through harsh circumstances leading to federal aid entitlements. The federal aid program was designed to create college accessibility for exactly these students, whose parents were perhaps incarcerated or otherwise separated from their children by court order. This is a far cry from the circumstances of students who have had a stable and safe home life, but are suddenly thrust into a college choice conundrum.
Students: You should be aware of your circumstances and what options are available. If including parent income as part of your FAFSA puts you out of eligibility for financial aid, this is the reality you will have to deal with. As always, be prepared to decide on what school you will attend, accounting for what the costs are and what the benefits are. Consider other funding options, like getting a job and working your way through school with some elbow grease. It could teach you an even bigger and better lesson about life.
Parents: In my experience, the wisest path is through the middle ground between two extremes. On one side, parents who do everything and pay for everything "college", leaving the student only responsible for showing up. On the other side, parents that are neglectful and careless, assuming that telling the kid to figure it out themselves is the best option. Neither extreme is the best way to handle such circumstances. Parents should recognize that a student must assume as much responsibility as possible over college selection and funding process within reason. Parents should play a supportive role to assist the student in this process, stepping in much like a life guard when trouble arises. The effort towards independence is valuable for a young person to harness lest it be wasted by parents that are no-shows or helicopters.
As Lynn O'Shaughnessy from "The College Solution" puts it, "If you're a parent contemplating making your child pay for college on his or her own, please give it more thought."
The internet is a vast source of knowledge, so much so that it is hard to keep track of it all. And the great amount of "College Advice" can feel overwhelming.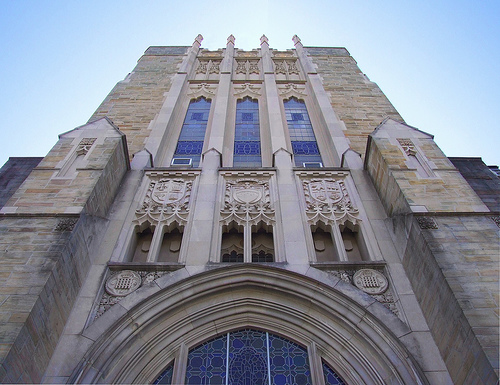 Here at The College Resource Center we are constantly reading and researching to make it easier for you the reader to get the knowledge you need.
So here you have it as organized by CollegeScholarships.org: The Top 100 Education Advice Blogs.
However, 100 blogs is a lot. Here are some "Top 5″ highlights.
Hack College : Ranked 14 on this list, but many students would list this site as number one. Hack College is a potpourri of cutting edge technology, college social life, and pod casts. This website has something for every student that wants to improve their college experience. Articles like "How to Digitize your Text Books" and "Solutions for Frustrating Cord Problems", the bane of any crowded dorm room full of technology. "How to Build the Ultimate Dorm Friendly Beer Pong Table" is critical reading for college students around the nation.
CollegeCandy: This site offers more for and from the ladies, with a slew of writers from around the country taking on trendy, edgy topics. Fresh content is always produced, mostly focused on lifestyle, beauty and relationships making for fun reads. But there is much more than make-up tips, and the blog pushes some boundaries to raise topics they know are on the minds of many students.
ParentsCountDowntoCollegeCoach.com: Parents often play a huge role in the college planning and payment process. This site has parent oriented articles like "A College-Parent Partnership", "Is student safety at the top of your list?" and "Substance Abuse in College" for a balance of important and at times sobering material. Parents are well advised to work together with their children through the college selection process. Since college costs are high and the job market is tough, many parents would do well to assist in their child's transition, or face the prospect of a "boomerang" moving back in after graduation.
Huffington Post's College Blog: From the world's most popular collection of blogs comes this gem of college knowledge. Be prepared for big ideas and scathing political commentary as well. They also offer some great slide shows on topics like "7 Reasons Why Your College Room Mate Hates You" so it is a good mix of serious national politics and college colloquialisms.
"If you don't know where you are going, any road will get you there." Lewis Carroll
Study Hacks: Take an even deeper dive into your learning. Study Hacks gives insight into a variety of educational based topics from how to be a better writer, to what it takes to be a world class engineer. This website offers articles that can help any student improve their academic ability. But it does not stop there. Articles like "The Danger of the Dream Job Delusion" and "Passion Must Be Actively Pursued, Not Passively Waited On — Welcome Zen Habits Readers" take knowledge and apply it outside the classroom.
The skill of debt management has grown into a necessity for anyone completing college using student loans. Are student's getting the help they need to deal with debt?
With about 2/3rds of all students finishing college with some kind of debt and $25,000 $26,600 in student loans an average amount outstanding, it has become a common topic on personal finance websites, news media outlets, and blogs written by graduated students trying to pay it all back.
While student loans have assisted millions of students in gaining college access, after graduation those loans begrudgingly become another monthly payment due amongst other bills. For many, student loans have become a necessity equivalent to car insurance. Sure, no one wants to actually pay for car insurance, but it's a necessity to owning a car just like no one wants to take a student loan, but many people want to attend college. The difference? Planning! College takes 4+ years to graduate before transitioning to the workforce while with car insurance no one "plans" for a car accident.
What can financial aid administrators, teachers, concerned parents and campus leaders do to raise awareness about this topic with students before they incur overburdening debt?
Facing the fact: College is a wholly unique experience from any other product or service because of the extended time involved and the unique nature of the ending result; a learned individual. With the time and options involved in higher education, the greatest challenge students face is reaping the benefits of the experience. It takes a combination of planning, patience, vision and reflection to make it work. Now more than ever this includes financial planning.
When we acknowledge the uniqueness of the situation, specific solutions can begin to be revealed. Fundamental debt repayment strategies are simple, reviewing the borrower loan statement is not complex, but these things take effort and students need a guide to get them started. Let's take a look at what can be done on campus to help students learn about this subject.
The financial aid administrator has the power!: As financial aid has become more common, the role of the financial aid administrator has expanded. In order to deal with the ever increasing cost of college, schools have delivered funding options in the forms of grants, scholarships and of course student loans to help enable college attendance. The financial aid office has taken the lead in this role, and closely works with admissions each year to help students start at the college.
But after the student begins attending, how often is the subject of student loan debt readdressed? During the years between required entrance and exit counseling it's a subject hardly considered, but all the while interest is accumulating on the loans outstanding.
Now student loans have become a hot topic, and students are learning more about it from any source they find, be it from the internet, Twitter, Face Book, Google image search or their friends. How can we know if the second hand knowledge gained about debt management is helpful and factually correct? As authorities on student funding, financial aid administrators should be concerned about the quality of information made available.
How can school leaders engage this topic with students?
Encourage repayment while in school: Start at the point of contact. When students ask about loan options, let them know about the benefits of beginning loan repayment while in school. Making payments on a student loan while still attending is truly an anti-debt weapon of choice. Nothing beats debt like making payments now, but it's not so easy with many more fun ways to spend money while in college. Students must use critical thinking to consider the concept of delayed gratification to achieve debt elimination, an uncommon but valuable trait worth developing while in college. This healthy financial habit sets a strong precedence for the student's future as they now associate incurred debts with immediate repayment instead of allowing it to grow uncontrolled.
Get active with student loan seminars: Get out in front of the subject and start talking to students directly about it. It's a topic already on the minds of students everywhere, so this is an opportunity to reach out and make an impact on fresh minds. Ignoring it altogether leads to ignorance and a lack of focus on the importance of the issue. If student's are being told to use student loans to attend college so they can learn, they should have the opportunity to learn about how to practically manage their debts. Extend seminars about financial aid and loans to high schools by coordinating with guidance counselors to connect to high school students before they start college.
Feature seminars in prominent areas: Take a look at your campus and figure out where the high traffic zones are and at what time they get busy. Areas like the student union building, cafeterias, and buildings with lots of classrooms in centralized locations are the way to go. Setting up the seminar in a hidden room, at a far walking distance at 9AM on a Friday means that zero students will show up. Prime time would probably be between 12 and 2pm on Monday or Tuesday, when the campus is flush with students.
"Your degree should help build a career that can enable loan repayment": It's the new and necessary mantra on campus. Students are easily distracted by the internet, smart phones, their friends, their families, boyfriends/girlfriends, spring break, video games, parties, concerts, and oh yeah…going to class. Getting caught up with the lifestyle associated with attending college becomes a predominant interest, as mentioned in an earlier article. Without a focus on why they are in school, students graduate without the tools to actually handle the debts they incurred. The message is clear; it's all about debt suitability. Students need to connect debt to their outcomes, and need to consider what real income and employment prospects exist. For example, consider the student pursuing a career in social services that will complete a Master's degree and will have about $72,000 in outstanding federal student loans. They should be aware of the federal income based repayment plan (IBR) combined with public service loan forgiveness where employment at a non-profit for 10 years can lead to the remaining Stafford loans being discharged. Is this what the student wants and does it fit with their life goals? Do they realize what kind of salary potential they have versus the debts incurred? They need to be thinking and talking about these things during the years before graduation, as matching up student loan debt to career opportunities is the new rule for student borrowers.
Talk about student loan refund management: Using refund money from student loans to pay for expenses is commonplace. The problem for students is when they go hog wild with the money, spending it on unnecessary items, luxuries or otherwise wasteful means. These students are even more likely to be shocked when their final loan balance is revealed. Take time to express the importance of proper refund check usage so students are spending their money wisely.
Don't assume the students understand debt: Debt is now a pressing topic, but students will not learn what they are not taught until they are forced to learn it on their own. With debt so commonplace in and out of college, having even a basic grasp of the subject is important. If schools are admitting all types of students for all types of different majors, but rely on complex financial instruments like loans to pay their bill, they deserve a lesson on how to manage the debt appropriately. It should not be just finance and economics majors that "get it".
Get athletes, club leaders, and social butterflies involved: To get something popular on campus, it needs to be popular with campus leaders. Gain influence by approaching these leaders about the topic and the far reaching impact it has. It will not take long for them to recognize the importance of the issue when many of them have student loans themselves. By building the relationship with campus leaders, the message will reach more students.
Combine instant gratification with worth while knowledge: Debt repayment used to be a dull topic. However, it's become increasingly interesting as a result of necessity. Students need to know about how to manage debt because so many have it. As an added motivator, it is fun to offer a quiz for a chance at a prize. Pens, stress balls, T-shirts and flash drives can be awarded based on test scores, and are surprisingly effective at motivating students to excel on the test. If knick-knacks, and do-dads are not in the budget, find a creative way to recognize a student for doing something right. This is where good student counseling skills become so important.
Make sure students know about consolidation: While still in school, remind students about consolidation for federal and private loans. Consolidation is a great way to simplify repayment and predictably manage debt elimination. Furthermore, with interest rates low, it can be a huge money saver.
In college, students are confronted with a lot of new information. Trying to make sense of it all can be very challenging.
With today's high costs of college, there is a very important area of information that students cannot afford to be ignorant about.
It's financial aid terminology.
Are you a student wondering why you did not qualify for a specific grant? Ever wonder why the cost of tuition and the cost of attendance are two different things? Read on and impress your financial aid administrator by being conversationally competent with these key terms.
1. COA: In financial aid, you will run across a lot of acronyms. One of them is COA or the Cost of Attendance. This term is used to describe the maximum cost associated with attending a particular institution. This accounts for more than just the costs listed on a billing statement. It actually includes tuition, room, board, transportation, books and miscellaneous expenses. The total COA always exceeds the actual costs listed on a billing statement, and it represents the maximum amount of financial aid a student may be awarded during an academic year. Example: Tuition, room, board and fees at XYZ University is $35,000 per year. When including the additional costs of transportation, books and miscellaneous expenses the total COA is $39,000. This gap between the actual cost on the billing statement and the proscribed COA allows for students to apply for enough financial aid and student loans to receive a refund check. In this case $39,000 – $35,000 = $4,000. If the student's total financial aid and loans add to $39,000, the student will receive $4,000 in refund checks from the school. I have a complete article about the cost of attendance here.
2. EFC: The Expected Family Contribution or EFC is the number given to students after they complete the Free application for federal student aid (FAFSA). It is used to gauge the students ability to pay for college costs out of pocket. The number takes into account family income and assets during calculation. Families with high income and assets have a higher EFC while families with lower income and assets have a lower EFC. The EFC is used in conjunction with need based grant programs like Pell to determine exact eligibility. It is important to know that the EFC is an amount of money the government believes you have available to put towards college expenses, but this does not necessarily mean that the cash is readily available to you sitting in a savings account. EFC is essentially a scale established to figure out how much financial aid can be awarded to a student with low EFCs qualifying for the most financial aid and high EFC's qualifying for the least.
3. Financial need: Financial need is a number determined by the following; COA – EFC – any outside aid awarded = financial need. For example; student attends ABC college with a COA of $41,000. Student has an EFC of $16,500 and was awarded a $2,000 community service grant. $41,000 – $16,500 – $2,000 = a financial need of $22,500. Financial need is important because schools use it to determine eligibility for school originated need based grants. Schools recognize that many students may have an EFC too large to be eligible for federal or state based education grants, so they use financial need to determine eligibility for grant money from the school itself. It's further reason why everyone should file the FAFSA even if they do not think they will qualify for aid. In fact, a student will have a different financial need for each school due to the varying costs of attendance. If a school has a very high cost of attendance, then the financial need for a student would be much greater than school carrying a lower cost of attendance. Financial need is also used to determine eligibility for subsidized Stafford loans and the Perkins loan. A student may have a high EFC but still qualify for these subsidized loans because the cost of attendance for their school is high.
4. Verification: If you have been selected for this procedure, you may be very well familiar with it. Verification is when the school requests copies of family tax and asset information to confirm that it is the same as what was put on the FAFSA. If there are discrepancies, the school adjusts the FAFSA info to reflect exactly what the taxes say. If you completed the FAFSA correctly, this should not be a problem. However, if there are radical differences, a student could lose financial aid eligibility.
5. SAP: SAP is satisfactory academic progress. At least once during every academic year, usually after the end of the spring semester, the school's financial aid office checks over the grades of students to confirm the GPA and total credits completed. A student must maintain at least a 2.0 GPA to stay eligible for virtually all financial aid and must complete a certain number of credits on-time to maintain pace towards a timely graduation. If the student falls behind, they are deemed "Not making Satisfactory Academic Progress" and are no longer eligible for financial aid. Students are allowed to appeal this through a written/typed letter explaining what academic challenges they had and a plan of action for improvement in the next semester. If approved, the student is deemed eligible to receive financial aid again, but if they continue to fall behind the required standard the financial aid will again be revoked, leaving the student to pay for college out of pocket. If deemed not SAP and an appeal is not approved, students generally drop out of their college because they have no way of paying for it. Student loan providers generally do not provide loans where the student is not SAP as well.
There are a lot of terms that need explaining in financial aid. If you run across something you do not understand, email me at Ken@LendKey.com and I will get an answer for you!
I recently had the pleasure of interviewing Ashley Craig, President of the Veterinary Business Management Association or VBMA. She was able to share some great insight into the world of veterinary medicine.
Ashley made clear the expectations and rewards of pursuing a career in this field, and provides a real world first hand perspective so valuable to prospective students.
Additionally, she makes a direct impact on veterinary students by serving as President of the VBMA. Since being officially established September 2004, VBMA has grown to over 3,000 members, established chapters at all US veterinarian schools and expanded to five schools internationally.
From the VBMA Mission Statement: The Veterinary Business Management Association is a student-driven organization dedicated to advancing the profession through increasing business knowledge, creating networking opportunities, and empowering students to achieve their personal and professional goals.
I was impressed with the goals and initiatives of the organization, especially in the area of business management and financial literacy. New veterinarians face great hurdles from handling the demands of a rigorous education to managing student loan debts to starting a practice. In order to help students through these challenges, VBMA offers support, guidance, resources and networking opportunities invaluable to up and coming veterinarians. VBMA has found that business education is a major factor in improving the quality of veterinary service and the amount veterinary income. The study of veterinarian medicine requires an intense focus that may leave little time to manage business oriented tasks. VBMA recognizes this and takes steps to educate their members on key subjects pivotal for new veterinarians to survive and thrive during their life's work.
If you are considering a career in this field and want to learn more, please read on.
Ken: What motivated you to attend Veterinary school to become a Vet?
Ashley: I have wanted to be a vet since I was a little kid. I always had a love for animals and a curiosity regarding how things worked. When I got older, I realized that it was more than just a love for animals; it was a love for the people who cared for these animals and an appreciation for the science that heals these animals.
Ken: What is a typical day of school like? Are they in classrooms, labs? Do you get field experience while in school?
Ashley: Each veterinary school across the nation differs in how their curriculum is based and how they work. At my school (Tuskegee University School of Veterinary Medicine), our first year is spent mainly in class with a couple of labs such as gross anatomy and histology.
The second year is completely in class. For the first two years you are generally in class from 8-5 daily.
Our third year we start half-day class, half-day clinic. During this year we are expected to come into the clinics in the morning before class to help with treatments, attend class from 8-noon, and then we are in clinics from 1- when they finish which can vary from 4 to midnight. On certain rotations you are also responsible for any emergencies that come in or watches on critical patients throughout the night. Every Friday afternoon students are in junior surgery practicing surgical skills.
During the fourth year, you are completely in clinics and acting as the primary doctor on the case.
For the most part, the clinical or field experiences are limited to the third and fourth years in school. If students are interested in getting more experiences, they generally join clubs that hold wet labs to help increase awareness and experience.
Ken: What did you do to prepare during undergraduate?
Ashley: I took pre-veterinary classes to fulfill the pre-requisite courses for veterinary courses. These courses vary per veterinary school but generally include general chemistry, organic chemistry, biochemistry, general biology, advanced biology such as microbiology, molecular biology and zoology.
I also worked with different veterinarians in large animal and small animal clinics. This really helped me not only get into veterinary school but also with my class work in veterinary school. If you have seen a case or disease it makes it easier to understand and remember what is going on in the body and through the entire disease process. Working in the clinics also helps with the technical skills needed to be an excellent student and eventually veterinarian.
Ken: Do you have a specialty area or animal that you focus on? Is this normal for most vets?
Ashley: I plan on specializing in horses (commonly called equine). More specifically I plan on specializing in equine reproduction. This is fairly normal to specialize on a specific species. In some rural areas, veterinarians can treat all species due to the lack of animal population but this is not as common of a practice as it use to be.
Ken: What kind of work do most Vets do after graduation and into their careers?
Ashley: It varies across the board. Some students graduate and go onto an internship then potentially a residence in a specialty field. Others go straight into private practice while others pursue lab animal medicine, government work or other facets of veterinary medicine. The wonderful thing about veterinary medicine is that the field is wide open. You can pursue so many different options after graduation!
Ken: What do you like and what do you not like about going through Veterinary school?
Ashley: What I love about veterinary school is the same thing that I hate about it. Veterinary School takes up your entire life when you are in it. It is wonderful because you make some amazing friends that become like family. It is also great because you are completely absorbed with learning about a field that you love. It consumes so much of your life that you often forget that there is a world around you that is going on. Many times my friends from home will call to talk and I can't talk to them due to school commitments, or my favorite one will be when important world events are occurring but I have no idea what is happening due to school.
Ken: Anything you wish you knew before you started?
Ashley: The four years you spend in veterinary school will be some of the greatest years of your life. You will love it and hate it in the same breath. It is like going to school full time and then having a full time job on top of it (studying). But with everything- you must make the most of it and always remember why you are in school and why you want to be a veterinarian.
Ken: What are the greatest challenges you see facing future veterinary students?
Ashley: The current cost of veterinary school is one of the greatest challenges for current and future veterinary students. The average amount of student loans that veterinary students will graduate with is around $140,000. This amount is only going to increase in the future. With a starting salary of around $70,000, student loans provide a large challenge to pay off.
Ken: How do you see Vet students applying financial literacy to their everyday challenges? (Loan repayment, small business loans, business management etc)
Ashley: With the challenges of a large student loan load, students must have basic financial literacy to decrease their financial burden while they are in school. By understanding the ins and outs of student loans, you can decrease your payments, decrease your total pay-back amount and increase your chances of practice ownership.
Ken: How does VBMA help? Why should Vet students join?
Ashley: The Veterinary Business Management Association was created to help bridge the gap in student business education from what is provided in veterinary school's curriculum to what you need in real life to succeed. As shown by several different scientific studies, to improve the quality of veterinary medicine provided clinicians must have skills such as communication, basic financial understanding and general management. This is where the VBMA comes into play. Our organization is founded on the determination, innovation, and entrepreneurial spirit of future veterinary leaders who desire a higher level of business education than what is being offered through veterinary colleges. This allows us to pursue their own educational interests through lectures and hands-on experiences.
The VBMA is essential to your veterinary school education. You can graduate number one from a top veterinary school, but if you do not have communication skills, basic business management and a greater understanding about finances, then you will not succeed in life. These basic skills can take a practitioner to a higher level of medicine and help them provide greater care to their patients. As we like to say, "Good Business is Good Medicine".
THANKS ASHLEY!
The Perkins loan, a need based loan program for college students, is undergoing review for a revamp to prevent it's elimination in 2014.
As reported in Inside Higher Education, the Perkins loan program is set to expire in 2014, along with several other campus based Aid programs like FSEOG and Workstudy. However, while FSEOG and Work-study will most likely be renewed as is, the Perkins loan is undergoing some scrutiny in order to find ways to improve it. If the program cannot be modernized to fit the current landscape of college costs and financial aid, it could be eliminated.
As noted in the earlier blog post "The Perkins Loan: a Little Loan Makes a Big Difference" the CURRENT Perkins loan program has some key points you should know about:
Perkins is a need based loan program. Therefore you must file a FAFSA to determine your eligibility.
Your school's financial aid office will determine your eligibility based on your family income. The Perkins loan program is for students determined to have high financial need.
The Perkins loan is in the student's name and no credit approval is required.
Colleges generally award a maximum of $4,000 in Perkins Funding per year, but many are awarded for lower amounts
It has a fixed interest rate of 5%. All interest that accrues while the student is in school is paid for by the Federal Government.
There is a nine month grace period after graduating or leaving school where no payments are due. Any interest generated during grace is paid for by the federal government.
Individual colleges and universities administer the loans. Repayment is facilitated by the colleges rather than the government. Repaid funds are used to make new loans each year.
About 1,700 institutions currently participate in the Perkins loan program, and lend about $1 billion per year
However, government officials are searching for ways to either make this program more impactful, or find a way to scrap it and forward the extra money to the short funded Pell grant program.
From the Inside Higher Ed article:
"The Obama administration proposed expanding the program to 2,700 institutions and lending $8.5 billion per year. But the Perkins loans would closely resemble unsubsidized federal student loans: Interest would accrue while students are enrolled, the loans would be serviced by Education Department contractors rather than individual institutions, and the interest rate would increase to 6.8 percent. Institutions would still be able to decide how much money to lend to each student, but their total available loan volume would be determined by a formula that would "provide incentives for successfully graduating more low-income students," according to an overview department officials provided at the panel."
Some perspective: Financial aid administrators want to retain this program for it's flexibility. It's a reserve of need based loans they can distribute to students, and can be very usefull in small funding shortfalls that families sometimes face.
However, the scale of the program, and the amount of time spent administrating it has made it rather antiquated. The one billion dollar a year Perkins program is tiny in comparison to the $116 Billion in federal stafford and plus loans originated through Direct loans, the flagship government loan program.
With college costs continuing to rise, the Perkins program has barely kept up. Most loans are awarded for $1,000 – $2,000 a year. At higher cost schools, this is a drop in the bucket.
Ultimately, the Direct loan program is able to serve more students effectively making the case for Perkins reformation or cancelation.
Making a Cash Cow: Terry Hartle, senior vice president for government and public affairs at the American Council on Education referred to the proposed program changes as a way to make the Perkins program a "money maker". I would agree, but this is because of increasing the rate to 6.8%, equivalent to the current Stafford loan program and eliminating the important in-school interest subsidy. The great benefit of the Perkins loan is that all interest accrued while enrolled in school is paid for by the government, but with this new plan, that option would be stripped. At that point it just looks like an unsubsidized Stafford loan resembling Perkins in title only.
There is still much time before the program expires and college presidents are already trying to prevent the Perkins program from ending. However, with budget cuts looming, extra student funding programs of low volume would be at risk of termination. If the Perkins loan does not modernize, it might be eliminated.
It's a familiar scenario for college administrators during the summer; many students submit deposits in May signifying a commitment to attend, but come September a percentage are nowhere to be found on campus. It's what admissions counselors refer to as "Summer Melt" where formerly committed students vanish like a snowman in July.
The percentage can range from small numbers to as high as a third of all incoming students, and can wreak havoc on a university's budget plans. However, the risk of "summer melt" presents an opportunity for students to increase scholarship funding – if they know how to ask for it.
High college costs have raised the stakes for maintaining predictable enrollment. Pressure falls to the admissions and financial aid office to stave off the "summer melt". That's because education budgets are strapped and schools must rely on every tuition dollar from their students. Many students and their families face financial hardships that can make college unaffordable, and colleges have responded by discounting their tuition through scholarship offers. With scholarship budgets thin, colleges take special care to award students just enough funding to meet an enrollment quota.
However, this strategy can backfire if many students decide not to attend.
As a result, negotiation has become more common. Students more frequently ask for reconsideration of merit based scholarship funding during the summer. In order to maintain an enrollment quota, additional funding may be made available to students that ask for it. But there are no guarantees.
In order to begin the process, a student typically needs to submit an appeal letter highlighting additional merits, qualities or achievements that may have been overlooked during the admissions process. If successful, an increase in scholarships may occur. It might only be for a small amount, but it is just enough to prevent a student from abandoning the college.
When comparing colleges to figure out where to attend, a term that will pop up is the "Cost of attendance" or "COA". This term is specifically used to describe the total costs associated with attending a particular school and is officially established by the financial aid office each year. This process is required for a school to remain eligible to provide federal financial aid to their students.
The cost of attendance is the total of six different costs including tuition, room, board, books, transportation and miscellaneous expenses. Each category is standardized to reflect commuter or resident student status. For example, if the student lives on campus, their transportation costs would be lower than a commuter student.
The cost of attendance is adjusted each year to reflect increased and/or changing costs.
The cost of attendance is also the maximum amount of funding that can pay to a students account during an academic period. It serves as a cap to prevent students from accessing grants, scholarships and student loans far beyond the actual costs of college.
Example of annual Cost of Attendance:
Tuition: $32,500
Room: $5,800
Board: $4,900
Transportation: $1,200
Books: $1,350
Miscellaneous: $1,447
Total Cost of Attendance: $47,197
It is important to note that the total cost of attendance is always greater than the actual balance due on a billing statement. In the above example the cost of attendance is $47,197, but the billing statement will show total charges for tuition, room and board for a total of $43,200. Subtracting $43,200 from $47,197 leaves a difference of $3,997. If the student applies for maximum financial aid, scholarship and student loan eligibility, the entire school balance would be paid, and an additional $3,997 would be given to the student in the form of a refund check. Because refunds are normally processed by the semester, this would create a refund of $1998.50 in the fall, and $1998.50 in the spring.
Refund checks have become normal for college students and are used to cover expenses like computers, books, supplies, extra food, clothing, transportation, and all the expenses that go along with college. However, students need to be put in check with their refunds. Students have been known to use student loan refunds for games, gadgets, gizmos, parties and all manner of non-school related activities. This is why there is a cap on refunds using the cost of attendance as a maximum. It is protection for the students and prevents them from accessing too much refund money at once.
Modifying your cost of attendance:
It is possible to have your cost of attendance increased as long as you meet requirements as established by your financial aid office. The financial aid office can make adjustments to reflect your individual circumstances using Professional Judgment, sometimes referred to as PJ.
The financial aid office may consider educational costs or the family's ability to pay when deciding on eligibility for professional judgment. Cost of attendance adjustments are limited to specific expenses that relate to the student and are educational in nature or are already listed in the cost of attendance, but are actually much higher. Here are some common areas where students request an increased cost of attendance to reflect actual costs.
transportation costs, student health insurance and student medical fees
increased board costs due to special diet dictated by medical or religious reasons
dependent care
disability-related expenses
cooperative education employment expenses
amount of education loan fees
By increasing the cost of attendance, the student can fit additional student funding onto the account, enabling a larger refund to be produced. It is important to note that increasing the cost of attendance can effectively increase the overall financial need of the student, and may increase eligibility for subsidized Stafford loans or Perkins loans. Before applying for additional private loan funding, always make sure you have maximized eligibility for Stafford and Perkins loans.
As reported in the Los Angeles Times, 529 plan contributions saw a 75% increase in the past two years, although contributions are still below the 2006 level.
From the article, "U.S. families poured a net $9 billion into 529 plans last year, up from $5.1 billion in 2008, and the pace accelerated in the first quarter of this year, according to Financial Research Corp. in Boston. The annual peak was $13.9 billion in 2006."
The increase is reflective of two major considerations. First, the apparent recovery and stability of markets have brought back many investors who waited out the past few years. Second, the cost of college just continues to increase striking worry into families with younger children.
Parents with younger children are taking note of students entering college now. They realize that college is a major financial commitment and want to help as best they can. Saving in a 529 plan is most effective when started early because it gives savings time to grow.
The problem that faced many students attempting to start school 2008-2009 was that any 529 money saved may have been reduced due to market performance. This is another reminder to periodically review your portfolio. As a student matures, any money saved in a 529 plan should shift assets away from volatile stock based investments and moved to fixed income. This way any money saved can be more predictably managed by the academic year.
If you have a student starting school now and have not been able to save much in a 529 plan, the next logical choice is student loans. Of course financial aid and scholarships should be tapped before applying for any additional student loans, however not all families qualify for these funding sources.
As mentioned in an earlier article, parents may be tempted to withdraw from retirement savings to help pay for college costs. With stiff penalties in addition to taxes due, parents should NOT pull money for retirement to pay for student tuition. You can borrow for college, but you cannot borrow for retirement.
Thinking about taking classes this summer? If so, they should be getting started very soon, so you need to get it together, get registered and figure out a way to pay for it.
Why summer classes? They are a great way to get ahead and ensure you graduate on time. An undergraduate degree usually requires 128 credits or an average of 16 credits in 8 semesters to complete. That means any semester where you register for 12 or 15 credits still puts you slightly behind schedule. You will need to get an extra class or two in there to finish on time. Additionally, try getting these extra summer classes completed between freshman and sophomore years, and sophomore and junior years. This leaves your junior year summer open for important internship opportunities.
Finding the right class: Summer classes can be tricky. That's because they follow a much different schedule than regular semester classes. Usually summer classes extend for five weeks and meet twice a week for about 4 hours. They squeeze a ton of instruction into a very short period of time. Needless to say, you need to be motivated to handle this blast of education. Consider your options by making sure you are taking a class you really need to get out of the way. For example, you may not be a science major, but you really need to finish a science class to stay on track for graduation. By taking the class within 5 weeks of the summer you can just get it out of the way, and use the regular semester to study the things that interest you.
Paying for it: Eligibility for financial aid for summer classes varies from student to student. For example, federal Stafford loan eligibility is used by most students to pay for the Fall and Spring semesters, leaving no funding available for the summer. Also, the summer of 2011 will be the last year of eligibility for extended Summer Pell grants. Over the past two years the Pell grant program was extended to offer students more funding options to take additional summer classes. However, because of budget constraints, this additional Pell funding is being cut. If you received Pell grant funding during the Fall and Spring, talk to your financial aid office to see if Pell can be extended into your summer session. This will be the last time you can get extra Pell funding for a very long time.
You may also need to apply for a private student loan to cover the remaining bill for summer. Just make sure that you meet registration eligibility requirements to retain the loan. If your private loan requires at least half time registration for a disbursal, that typically means you must be registered for 6 credits during the academic period in question. Make sure you confirm with your financial aid office and your lender that you meet the requirements to get a private loan for the summer.
When Summer classes do not make sense: If you receive a high amount of grants, scholarships and other financial aid during the Fall and Spring semester, but would need to take out additional loans to complete a summer class, you may want to reconsider your plans. Taking out more debt than is necessary should be avoided. Instead, try and complete 18 credits during the Fall and Spring semesters putting you on track for timely graduation. If you receive a lot of financial aid during the fall and spring, your out of pocket costs per credit would probably be much lower than the out of pocket cost per credit in the summer. It might be a more stressful schedule during the Fall and Spring, but if you are heavily subsidized by financial aid it makes more financial sense to take 18 credits.